---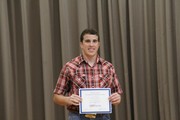 Kamden Basinger - Dale Dennis Excellence in Education Award
---
2018 Activities Awards Night
by Monte Haxton
May 12, 2018
The 2018 Activities and Awards Night was held on Tuesday, May 8th to honor the students who participated in many of the different sports and clubs at Argonia High School during the 2017-18 school year. Participation was extremely high. Nearly every student was involved in at least one of the many opportunities that AHS has to offer.
The evening began with an announcement of those students that were on honor roll. The scholarship award winners were announced for the graduates. Mrs. Natalie Shirley was voted as the Teacher of the Year. Participants in all clubs and sports were given recognition for their efforts. Mr. Dewlen announced the work ethic grade card winners.
Mr. Almanza awarded the senior athletes of the year to Leah Fitch and Trevor Pierce. Mr. Dewlen then awarded the KSHSAA Citizenship Awards to Leah Fitch and Kamden Basinger. To finish the night, Mr. Dewlen awarded the Dale Dennis Excellence in Education Award to Kamden Basinger.
We would like to thank each and every student for their continued involvement in AHS's activities. We would also like to thank all of the parents, family, coaches, administration, and our community for their support of the students of Argonia High School.